Environment & Sustainability
Appreciation for our natural world goes hand in hand with eco-conscious production.
WE'RE A CARBON NEUTRAL PLANT-A-TREE PARTNER
From January 2021, a tree is planted for every order placed. This is carried out by Carbon Neutral, a Perth company. Trees are placed in the Yarra Yarra Biodiversity Corridor, located in Western Australia's northern agricultural region approximately 400 km north of Perth.
I'm proud to report 2,935 trees have been purchased since this initiative began in January 2021.
PACKAGING
Wherever possible, plastic, bubble wrap, tissue and cardboard from incoming packages are reused to pack studio Nikulinsky orders.
Compostable packaging bags and cardboard mailing boxes form the basis for studio Nikulinsky parcels - I encourage recipients to reuse these materials. 
PAPER PRINTING
studio Nikulinsky prints with a Perth-based company that has a high environmental standard. Cards are now printed on 100% recycled stock with vegetable-based inks.
PRINT-TO-ORDER APPAREL
T-shirts are a printed-to-order product, ordered every Monday. Your t-shirt will be printed on the next Monday following the day you place your order.
If you place an order on Monday before 12pm, it will be ordered on the same day. Orders made after 12pm Monday will be placed on the following Monday. 
Please choose your style and size carefully, size guide is here.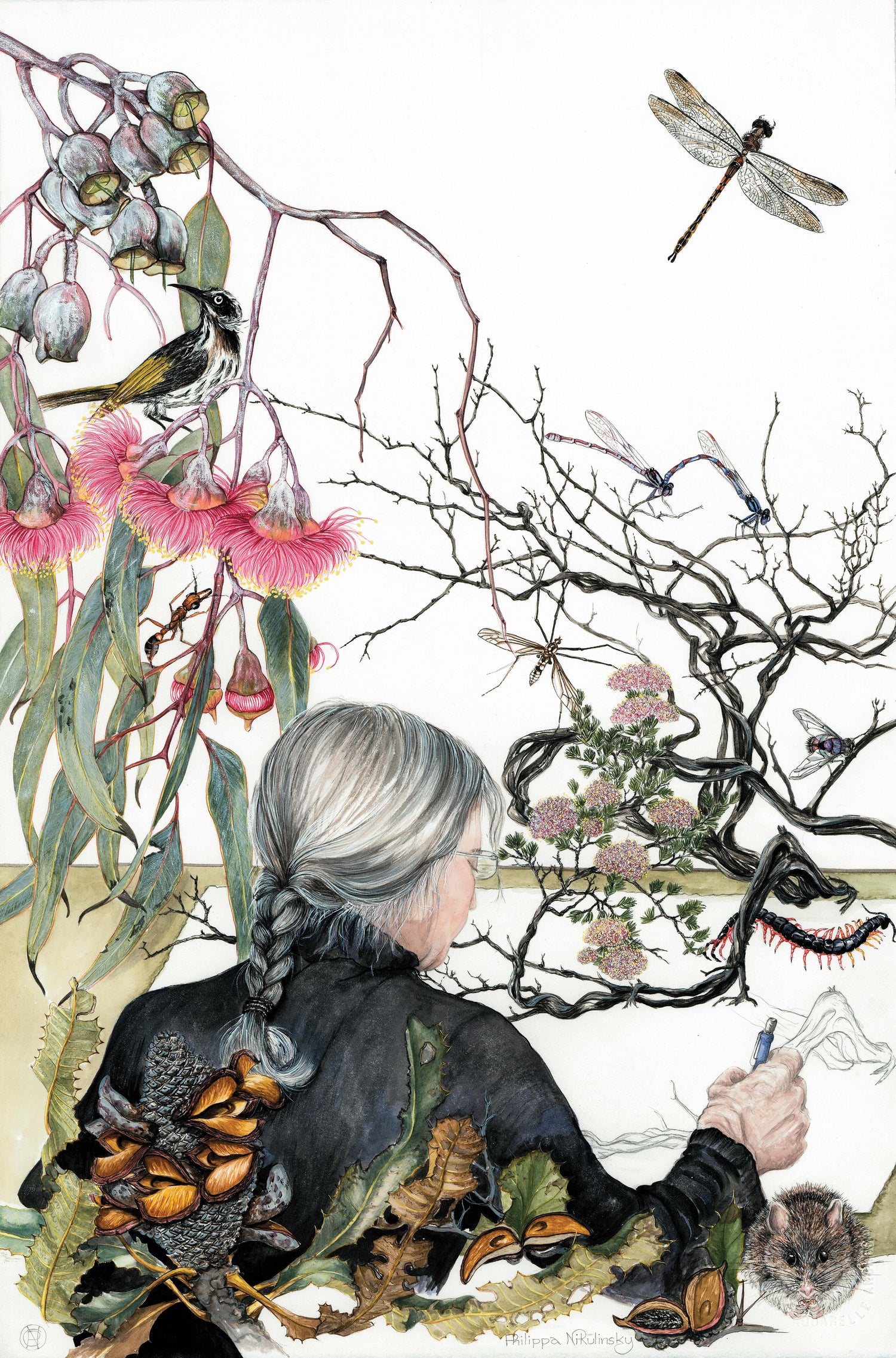 Philippa Nikulinsky AM
Philippa's career focuses on a lifetime fascination with the flora and fauna of the arid lands of Western Australia.
For nearly 50 years, Philippa has travelled throughout this enormous state to record, draw and paint its phenomenal natural history. She's shared her gift for watercolour painting through her teaching, exhibitions and commissioned works. She's also the author of many books published by Fremantle Press.
In recognition of her contribution to the arts, Philippa was awarded an Order of Australia in 2016 and Honorary Doctorate (UWA) in 2019.
She opens her studio by appointment only, and original paintings and fine art reproductions of Philippa's work are available through her website here.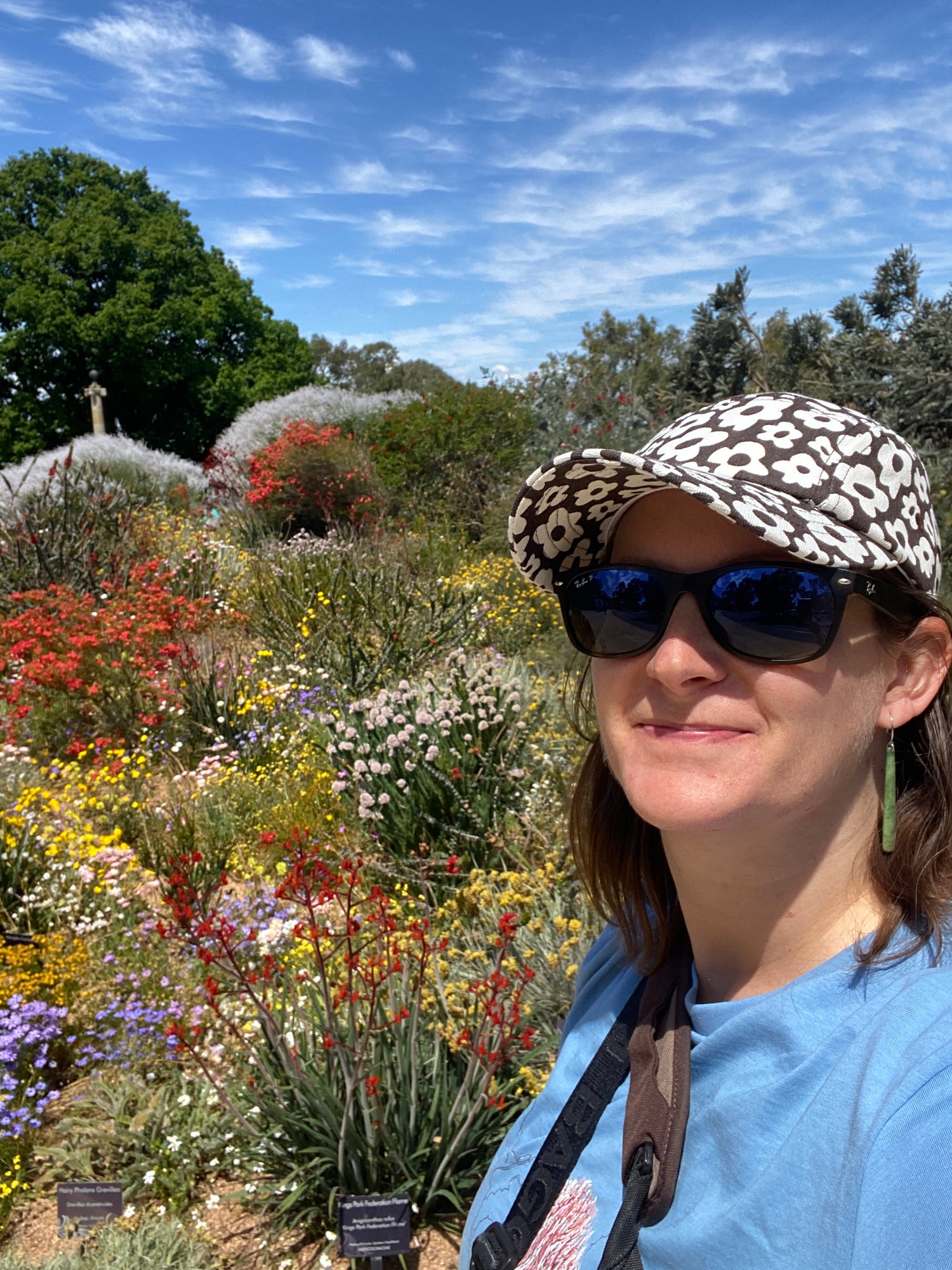 Angela Nikulinsky
Angela is a writer and designer. Originally from New Zealand, she moved to Perth over a decade ago and developed a strong connection with this place.
Inspired by Philippa's work and work ethic, Angela started studio Nikulinsky in 2017.
Angela is married to the youngest of Phillipa's four sons, and they have two daughters.
She loves that this business is based on connection with family that broadens and supports Philippa's legacy, while also showing her daughters what women can do whilst supporting their families.
She holds a Bachelor of Arts in History, Professional Writing and Publishing (Curtin), and a Graduate Diploma in Writing and Literature (Deakin).