customer feedback
Hi Angela,
I received my order today and my GOODNESS what a joy it was to unpack that box!!! Thank you so much.
All the items were supposed to be gifts but I don't want to part with ANY! So beautiful!! Thanks again 😊😊
Lizzy, 15 November 2019
Dear Angela,
I made a recent order from your site, and I just wanted to say thank - the cards are just stunning and such beautiful quality paper/card. The packaging and wax sealing was beautiful and extra special.  
Karen
4 July 2019
Hi Angela,
Just a quick e-mail to say it wont be the last time you have contact with me. Have always been an admirer of your mother-in-laws work.
I also wish to congratulate you on your  prompt and friendly service.
Marilyn
10 June 2019
Hi! My cards arrived and they are beautiful. The quality of the card is way better than i could have imagined. And the artwork is so detailed and the packaging 😍 Thank you.
Chantelle
23 May 2019
Hello Angela, thank you very much for the cards. I collected the parcel from the post office and was mightily impressed by the lovely boxes and their beautiful contents. The small card showing the salty shrubs is gorgeous and much appreciated. Thank you very much for all your work and patience. Kind regards and best wishes for 2019.
Hello Angela, Wow, the new packaging is impressive. Hand stamped and leafed stunning. Thank you so very much. Big smiles to you, Cassandra x
13 December 2018
Thank you Angela, order received. Lovely cards, perfectly packed. It will be a pleasure to use them. Cheers, Jane
27 November 2018 
🐞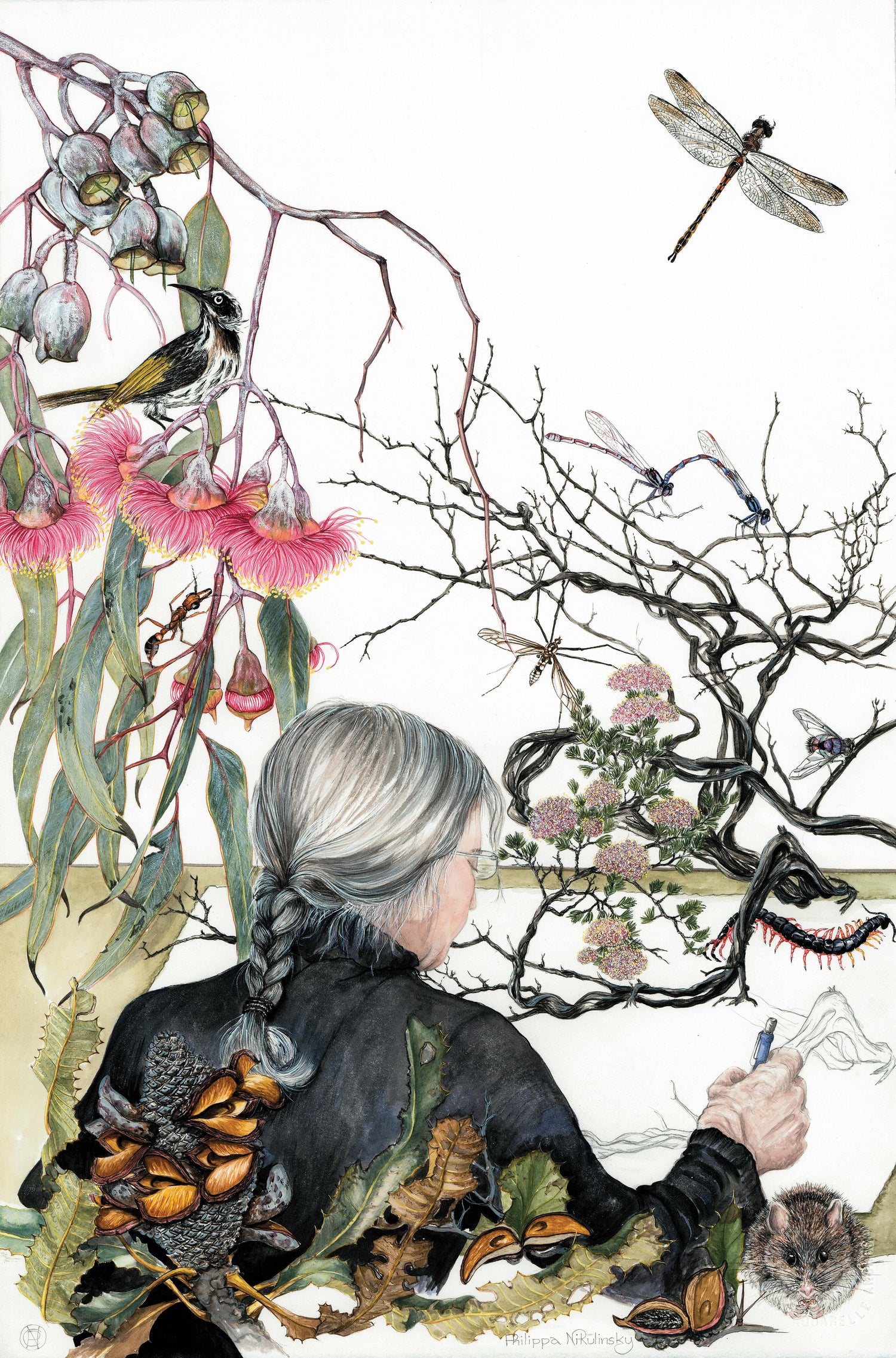 Philippa Nikulinsky AM
Philippa's career focuses on a lifetime fascination with the flora and fauna of the arid lands of Western Australia.
For nearly 50 years, Philippa has travelled throughout this enormous state to record, draw and paint its phenomenal natural history. She's shared her gift for watercolour painting through her teaching, exhibitions and commissioned works. She's also the author of many books published by Fremantle Press.
In recognition of her contribution to the arts, Philippa was awarded an Order of Australia in 2016 and Honorary Doctorate (UWA) in 2019.
She opens her studio by appointment only, and original paintings and fine art reproductions of Philippa's work are available through her website here.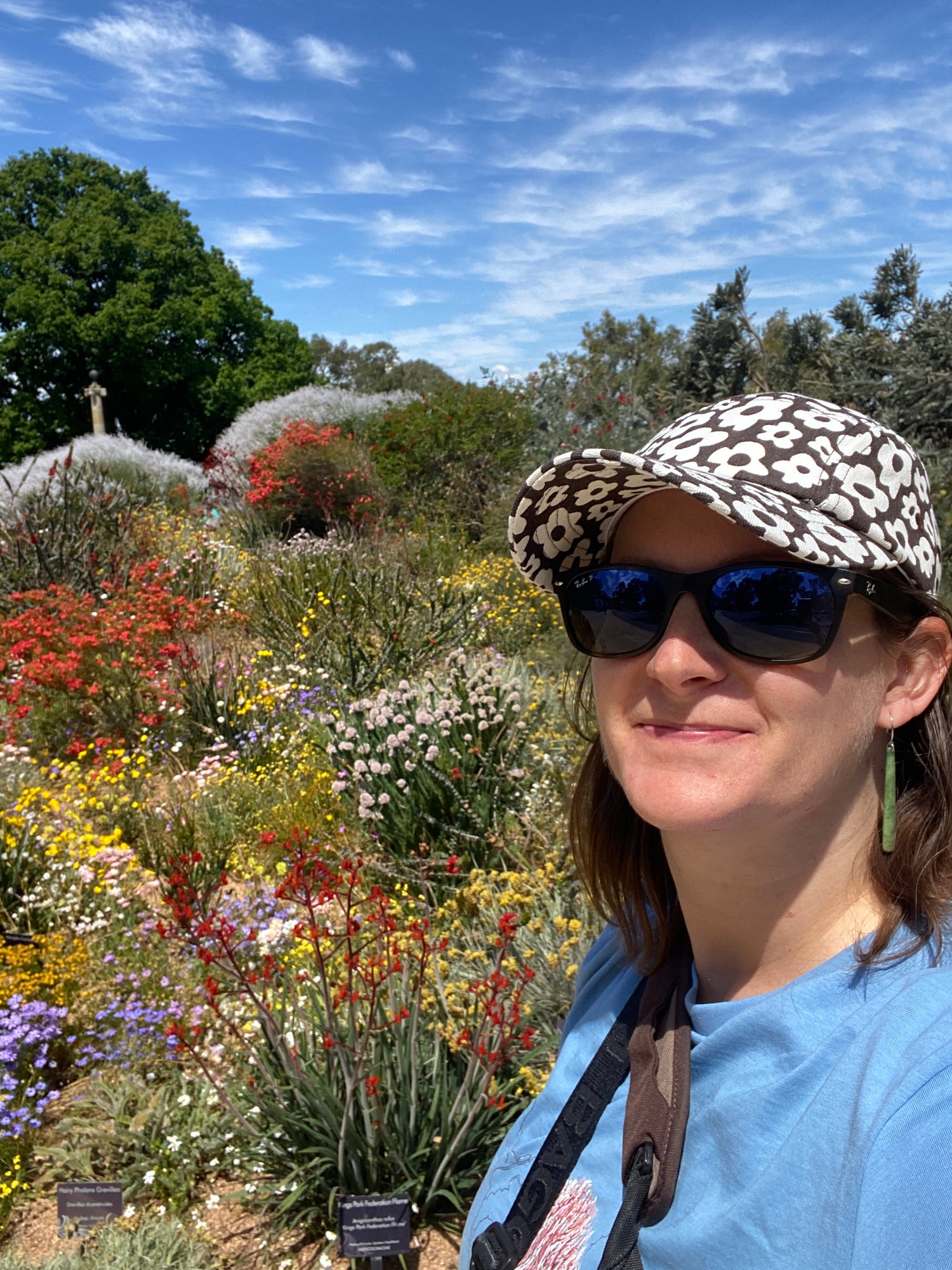 Angela Nikulinsky
Angela is a writer and designer. Originally from New Zealand, she moved to Perth over a decade ago and developed a strong connection with this place.
Inspired by Philippa's work and work ethic, Angela started studio Nikulinsky in 2017.
Angela is married to the youngest of Phillipa's four sons, and they have two daughters.
She loves that this business is based on connection with family that broadens and supports Philippa's legacy, while also showing her daughters what women can do whilst supporting their families.
She holds a Bachelor of Arts in History, Professional Writing and Publishing (Curtin), and a Graduate Diploma in Writing and Literature (Deakin).